Want to visit the Smokies in February? You may be wondering what all you can do in the area in February, and we want to share some of the top activities with you! From visiting a museum to doing exciting activities, there's something for everyone. Here are the top 4 things to do in the Smoky Mountains in February:
1. See Winterfest Lights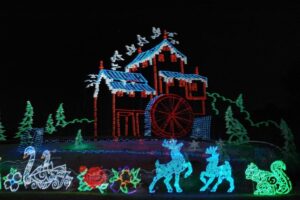 One activity everyone will enjoy in February is seeing the Winterfest Lights. These lights go up in November and stay up until the middle of February. You can drive along the Parkway through Pigeon Forge and Gatlinburg, as well as along Highway 66 in Sevierville, to enjoy these lights. There are decorations dedicated to the 12 days of Christmas, and there are several that are themed around the Smoky Mountains. You'll see black bears, wild animals, and snowflakes. Everyone will enjoy driving around and seeing these lights!
2. Visit the Titanic Museum
During the month of February, the Titanic Museum celebrates Sweetheart Month. This is one of the fun things to do in the Smoky Mountains in February. If you want to plan a romantic getaway with your significant other, then you should go to this museum during this event. Couples can participate in all kinds of romantic activities at the museum. You can purchase tickets and tour the museum any time during the month. If you happen to be in town during Valentine's Day, you can enjoy the First Class Valentine's Dinner. There is a "secret" dining room where you can enjoy a meal. Other packages include being serenaded by a 100+ year old piano or dining right on the Grand Staircase.
3. Ski, Snowboard, and Tube at Ober Gatlinburg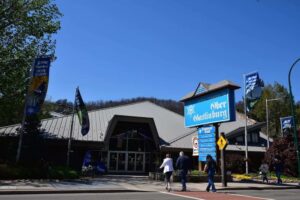 One of the most popular things to do in the Smoky Mountains in February is to visit Ober Gatlinburg. During winter, you can go skiing or snowboarding at this resort. You can bring your own gear, or you can rent gear from Ober. There are a few slopes to choose from, and you'll ride to the top of the hill then race down on skis or a snowboard. People of all ages can enjoy these activities, and it doesn't matter what skill level you're at either. Another fun thing to do at Ober during February is to go snow tubing. You can spend an hour going up the hill and riding back down on an inner tube on the snow.
4. Go On a Hike
If you want to enjoy the Smoky Mountains, you should go on a hike during your trip. There are plenty of trails that are open during the winter. There's a possibility of seeing snow along your hike, depending on the weather and elevation. You might even see frozen waterfalls and icicles along the path. Even if you don't see signs of snow, you can still enjoy a beautiful hike through the Smoky Mountains during this time of year.
These are just some of the fun things to do in the Smoky Mountains in February. Wondering what else you can do? Check out these Smoky Mountain attractions for some ideas!