Who doesn't want to save money on their vacation? We want to share some of our top Pigeon Forge restaurant coupons you'll want to use on your next vacation to the Smoky Mountains! Whether it's breakfast, lunch, or dinner, you'll get a delicious meal and save some money. Here are the top 5 Pigeon Forge restaurant coupons you need for your vacation:
1. Bennett's Pit Bar-B-Que
There's nothing better than delicious southern barbeque! At Bennett's Pit Bar-B-Que, they have slowly roasted their meat for hours to get that signature smoky flavor. You can get pulled pork, brisket, chicken, burnt ends, and many other signature barbeque favorites. You'll love the baby back ribs or the brisket burger. Some of the sides you can get to go with your meal include spicy mac and cheese, garlic biscuits, or deep fried corn. Want to have a picnic in the mountains? Grab a family pack at Bennett's and take it with you! Just don't forget our coupon for Bennett's Pit Bar-B-Que to get a great deal!
2. Flapjacks Pancake Cabin
Wondering where you're going to eat for breakfast before you head out for a day full of fun? Flapjacks Pancake Cabin is a great choice for your first meal of the day! If eggs and protein are your go to, you should try one of the Elkmont egg platters. Pair your eggs with bacon, sausage, or ham. Get one of the omelets filled with veggies, cheese, and protein. If you love pancakes, you have to try the sticky bun, reese's peanut butter, or mixed berry pancakes. Want to eat a hearty meal? Get one of the skillets with veggies, potatoes, and eggs! Be sure to use our Flapjacks coupon when you go!
3. Corky's BBQ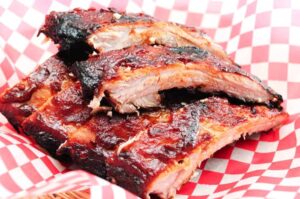 Corky's BBQ is another great Pigeon Forge restaurant you'll want to try while you're in town! They have half or full slab of ribs, fried catfish, and smoked sausage. Want to try something different? Get the BBQ mac and cheese. Some sides you'll find include jalapeno hush puppies, twice baked potato salad, collard greens, and much more. Bring our coupon with you to save some money while you eat delicious food!
4. Smoky Mountain Pancake House
Smoky Mountain Pancake House is another Pigeon Forge restaurant you can save at with our coupons! Get a stack of pancakes covered in warm syrup and butter or try sausage links wrapped in pancakes for something different. Want a little bit of everything? Get the Grandpa's Country Breakfast that includes two country eggs, three pancakes, and bacon or sausage. Love biscuits and gravy? Try one of the biscuit breakfasts!
5. Smoky's Pancake Cabin
If your crew loves pancakes, then you need to eat at Smoky's Pancake Cabin while you're on vacation. They have pancakes that taste like dessert, such as the banana split, reese's, and cheesecake. For something a little lighter, get a crepe filled with cheesecake custard and topped with berries. Smoky's Pancake Cabin also has all kinds of savory dishes, from omelets to scramblers. Bring our coupon with you when you eat at Smoky's Pancake Cabin to save! For more breakfast options in the Smokies, click here.
Since you know about some of the places to eat where you can use our coupons, you're ready for your next vacation! Find the coupons for these Pigeon Forge restaurants and other attractions here!