If you have never been to the Big Rock Dude Ranch at Ponderosa when you've visited the Smoky Mountains, you need to go the next time you're in town! Animal lovers will get to have fun at the petting zoo and ride horses along mountain trails. Kids will have fun fishing in the pond and gem mining, plus so much more! Here are the top 7 fun things to do at Big Rock Dude Ranch:
1. Go Horseback Riding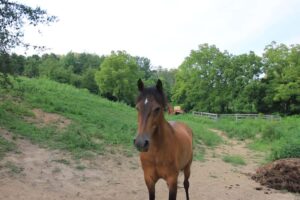 Riding horses is the biggest draw at Big Rock Dude Ranch. You can see what it was like for people over 200 years ago to explore the Smokies on horseback. You will ride through the woods along mountain trails with a guide on his or her own horse. Kids to teenagers to adults will have a ton of fun riding horses for an afternoon!
2. Visit the Petting Zoo
Animal lovers will want to stop by the petting zoo when you come to the ranch. There are all kinds of creatures, including ponies, llamas, goats, chickens, and ducks. There are even more exotic animals such as emus and peacocks. Buy a bag of feed and have fun interacting with the animals!
3. Explore the Museum
There is a museum on site at Big Rock Dude Ranch. They have all kinds of artifacts from the Civil War. You'll see pictures, machinery, and much more in the museum. This is really neat to walk through and see, especially if you love history. Don't forget to check out the museum before you leave the ranch!
4. Gem Mining
Kids of all ages will want to go gem mining! Purchase a bag of ore and sift through it in the water trough. Some of the gems you might find include rose quartz, jade, and turquoise. You never know what you might find!
5. Ride an ATV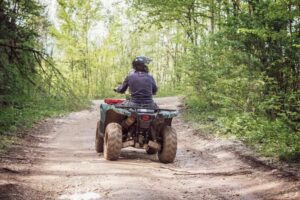 Have you always wanted to drive an ATV? At the ranch, you can drive an ATV along mountain trails! You'll have fun exploring and operating the machinery. You must be at least 16 years old with a valid driver's license to ride an ATV.
6. Eat at the Chow Boys Cafe
After you do any of these fun activities at the Big Rock Dude Ranch, you'll probably be hungry! The Chow Boys Cafe on site is a great place for a snack or small meal. You can get hot dogs, sandwiches, and cold drinks. There are picnic areas around the ranch where you can enjoy your food and drinks!
7. Fish in the Pond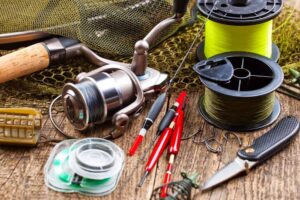 Do you like to fish or want to teach your kids how to fish? You can go fishing in the pond at the ranch! For a one time fee, you have 3 days where you can fish at their pond. They provide the rod and bait. Fishing is catch and release, and some of the fish in the pond are bluegill and crappie. You don't have to have a Tennessee fishing license to fish at the ranch.
Now you know about all kinds of fun things you can do at Big Rock Dude Ranch! Wondering what else you should do on your vacation? Here are a ton of Smoky Mountain attractions you should check out!