With so much you want to do in the Smokies, it's hard enough to narrow down what attractions to visit let alone where to stay that will best suit you. To make your next vacation easier to plan, we have narrowed down the 4 best hotels in Pigeon Forge TN and what they are the best for.
For a great location: Inn on the River
If you are looking for a nice hotel with a great location then the Inn on the River is the perfect place to be! You'll be a short drive from the Island, the Great Smoky Mountains National Park, Dollywood, and other local attractions. However, the best thing about this hotel's location is that it's right on the river! You can be on your suite's balcony or downstairs on the patio and enjoy the sights and sounds of the river passing beside the hotel. Whether you are looking to have tons of excitement or just want to relax in the Smokies the Inn on the River is the best place to be.
For families: All Season Suites
One of the best hotels in Pigeon Forge TN for families is All Season Suites. All of their suites feature kitchenettes with refrigerators, stovetops, and microwaves. This is an unparalleled convenience when you bring your kids along for vacation. It will save you money on the eating out bill, along with time and stress of finding a place to eat at that everyone likes. All Season Suites also offers breakfast every morning, and has a pool! Two more amenities that will leave your family with smiling faces!
For affordability: Valley Forge Inn
The Valley Forge Inn is one of the best hotels in Pigeon Forge when you are looking for an affordable place to stay in the Smokies. However, don't let that fool you on what they have to offer. The Valley Forge Inn will make you feel welcome and like part of the family when you stay there. You can enjoy the indoor and outdoor pools, as well as complimentary breakfast each morning of your stay! You even have access to guest laundry services, and they have several different kinds of rooms to accommodate your group.
For romantic getaways: Vacation Lodge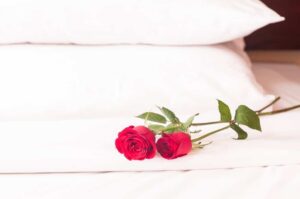 Not only is Vacation Lodge both affordable and in a great location, but it's also the perfect place to stay if you want to spend time away with someone special. Vacation Lodge has honeymoon suites that come with everything you need for a romantic getaway. You can relax on the private balcony while admiring the mountain views together, soak in the bubbling in-room Jacuzzi while sharing a bottle of wine, and curl up together in front of the fireplace on those cool mountain nights. You'll even get free breakfast in the morning! You'll have it all at Vacation Lodge.
These are some of the best hotels in Pigeon Forge TN to stay, no matter the type of vacation you are planning. You can find other fun and great hotels in Pigeon Forge here!