You don't have to go too far into the Great Smoky Mountains National Park to find some great hiking trails! There are great trails you will really enjoy being on right outside of Gatlinburg. Check out these top 5 Gatlinburg hiking trails you should explore:
1. Laurel Falls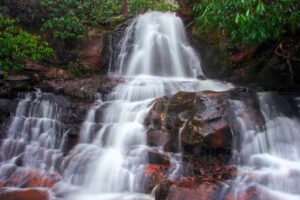 If you're looking for a simple hike that virtually anyone is capable of doing, you should hike Laurel Falls. This Gatlinburg hiking trail is considered easy at 2.3 miles roundtrip. It is simpler than other trails because the path is paved all the way to the top. Although the trail is considered easy, the view at the top is amazing. At the end of this out-and-back trail, you'll find an 80-foot-tall, two-tier waterfall. Water gushes over the rocks, and you can easily take pictures right in front of the waterfall. Everyone loves Laurel Falls trail!
2. Gatlinburg Trail
The Gatlinburg Trail is another easy out-and-back hiking trail. Its roundtrip length is 3.8 miles. A good portion of the trail follows the west prong of the Little Pigeon River. You'll cross it on a bridge, where you'll make your way through old forest growth. Along the trail, you'll see remains of old homesteads, which you'll enjoy if you love history. The Gatlinburg Trail is one of the only hiking trails in the Smoky Mountains that allows dogs. Horses are also allowed on this trail.
3. Baskins Creek Trail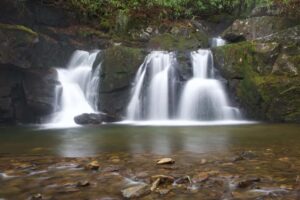 For a more moderate Gatlinburg hiking trail, you should try Baskins Creek Trail. The roundtrip length is 6.4 miles. A little ways from the trailhead, you'll be able to see great views of the mountain range. After making your way through the woods, you'll come across Baskins Creek Falls. With lots of large rocks, this waterfall is very impressive. The falls has two tiers and stands at 40 feet tall. You will have fun on this hiking trail!
4. Alum Cave
Want to see some really cool geological features and panoramic views of the mountains? Hike to Alum Cave. It's a 4.4-mile roundtrip hike. The first cool feature you'll see on this trail is Arch Rock. you'll make your way through a narrow tunnel along rock stairs. After this part of the trail, you'll have great views of the mountains. You'll then be at Alum Cave, which is technically a concave bluff. If you want, you could keep hiking to get to the summit of Mt. LeConte from this trail.
5. Rainbow Falls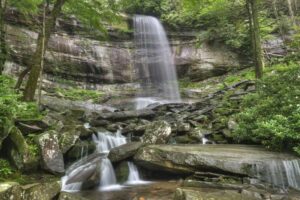 To see one of the most incredible waterfalls in the Smoky Mountains, you should hike to Rainbow Falls. The roundtrip length is 5.4 miles. At the beginning of this Gatlinburg hiking trail, you'll make your way through a boulder field. LeConte creek will run along the trail for a little while after this portion of the trail. You'll cross on a few foot bridges before you reach the falls. Rainbow Falls is the tallest, single drop waterfall in the national park at 80 feet tall. It gets its name from the rainbows found in the mist in the afternoon.
Planning on being in Cades Cove? Check out these hiking trails in Cades Cove!
You have so many options for Gatlinburg hiking trails! Curious about some of the other places in the national park? Check out these other hiking trails in the Smoky Mountains!